History of St.Thomas School
Origin
The Orthodox Church in India traces its origin to 52 A.D., when St. Thomas, one of the apostles of Jesus Christ arrived and propagated the gospel and established church in the southern part of India. This church believes in preserving an unbroken continuity of spiritual life, ethical value and noble traditions through the ages. In order to keep up this belief, a handful of a variety of job prospects offered by the industrial belt in the area, got together under the banner of 'Christian Association' in the year 1976
Establishment of the Church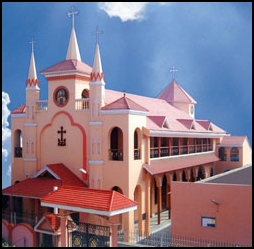 In the year 1977 the first Metropolitan of Delhi, Dr. Paulos Mar Gregorious appointed Rev. Fr. P.K. Thomas as the first vicar of the parish. Together they arranged for regular Orthodox worship. In 1978, the parish was formally begun and the St. Thomas Orthodox Church Society was registered. The relentless effort and enthusiasm of the parishioners, and the encouraging moral support of the priests led to the procurement of a small plot of land at Lajpat Nagar, Sahibabad for the erection of the Church building in 1981. The Church proudly stands as a fountain of blessings and spiritual inspiration reminding the parishioners of the social commitment that is to be maintained by them.
St. Thomas School, Sahibabad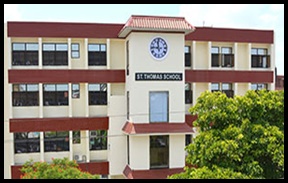 As a part of the educational venture of the St. Thomas Orthodox Church society, a humble beginning was made with a handful of students, within the premises of the Church. Later, a plot was purchased for the school in 1988. By 1990, St. Thomas School, Sahibabad was established. The construction of the new building was completed in 1992. In 1996, the school got affiliated to the C.B.S.E. The institution has successfully maintained a good reputation with cent percent result and a commendable number of distinctions in the C.B.S.E. Board Examination. It has strength of 1800 children and 75 staff members.
St. Thomas School, Indirapuram: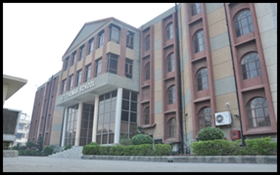 Another milestone in the noble endeavour was a new branch of St. Thomas School at Indirapuram, for which 2.75 acres of land was acquired in 1999. The school was established in 2000. It is recognized and affiliated to C.B.S.E. The zest and vigour of the Church Society let to the construction of the majestic school building which was inaugurated by Hon'ble speaker of the Lok Sabha Shri Somnath Chatterjee on January 27,'05.
"The woods are lovely dark and deep
But I have promises to keep.
And miles to go before I sleep.
And miles to go before I sleep."