"Feed the hungry"-A humble initiative by Thomasanians
HOPE
Helping Others to Progress through Education
Hope-An informal school for the under- privileged kids of construction labourers and rickshaw pullers, from Indirapuram It was informally inaugurated today by His Grace Dr.Youhanon Mar Demetrios, the Delhi Metropolitan of the Malankara Orthodox Church at St Thomas School, Indirapuram. It is an initiative by the St. Thomas Orthodox Church Society, Sahibabad. Around 90 children from nearby slums are taught by our teachers.Children are also provided school bags, books, uniform and writing materials.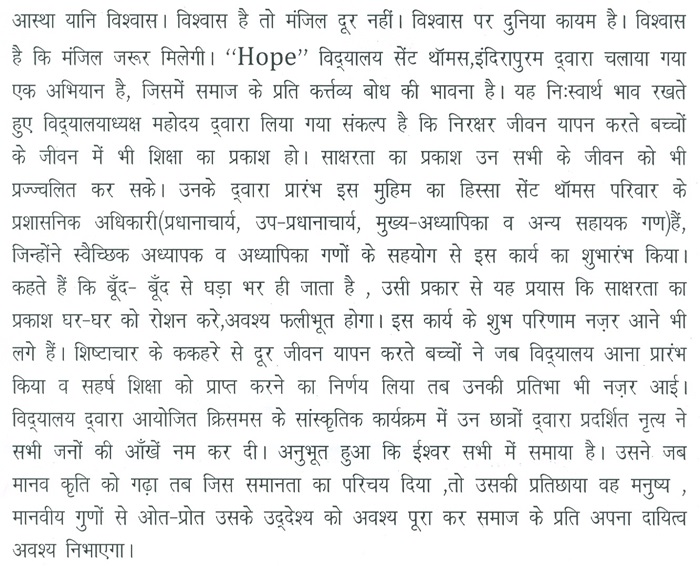 Sankalp For Kaushalya
St. Thomas Orthodox Church Society runs two prestigious English Medium Schools, St. Thomas School, Sahibabad and St. Thomas School Indirapuram. This society is dynamic and socially committed as it is founded on life of worship, love and service. It caters to the children of medium / low income groups and provides free education to many. So as a part of its social responsibility initiative, the society has adopted one of the poorest villages of Ghaziabad "Kaushalya". The society works strenuously for its amelioration. It is doing great work in improving the village condition in areas of education, health and hygiene.
In November 2006 ,the St.Thomas Orthodox Society organized a FETE at its St. Thomas school Indirapuram to mobilize financial resources to adopt a village in Ghaziabad district. Society's movement received a victory when District Magistrate M.K.S. Sundram and S.S.P. Mr.Piyush Mardia allotted Kaushalya village.
This village is mostly dominated by minority communities. It is located about 30 KM from St.Thomas School Indirapuram.
The Society has embarked upon a project named "Sankalp"-'a promise'. It was started in January 2007 with the active support of the then Chairman Father P.A. Philip, the then Principal Mrs.Elizabeth Thomas and Project Co-ordinator and Media In-charge Mrs.Neena Jha. The project has attracted the attention of the government agencies, media and people at large.
Share If You Care
The noble venture 'Share if you Care' gives each Thomasanian the opportunity to awaken himself to the needs and desires of fellow schoolmates who are less privileged than him. The pioneering drive envisaged by the then Chairman, Rev. Fr. Shaji Mathews and implemented by the Student Council 2010(under the leadership of Tushar Bhat, the Headboy and Jhankar Gupta, the Headgirl; guided by Mrs. Shali Nair, the present Vice Principal) was inaugurated on the 21st November 2010 by Shri Venu Rajamony, IAS. We are proud to declare that ever since it has become a habit amongst Thomasanians to pool in funds by the21st of every month in order to help meet the educational expenses of their financially challenged counterparts. After all, Charity begins at Home.
THE GOOD SAMARITANS WEEK-Celebrating Xmas in a Unique way!
Helping hands are better than praying lips
St. Thomas School, Indirapuram organises Good Samaritans Week every year in December, to celebrate Christmas in a unique way. Christmas which is an epitome of lovng, caring and sharing was amply visible in the actions of the students. During the week, Thomasanians visited various orphanages, Leprosy homes and tried to bring smiles on the faces of the less privileged.
Giving credence to the adage, An ounce of help is always better than a pound of preaching. Thomasanians visits and donates myriad basic items such as woollens, used clothes, tooth paste, hair oil, soaps, biscuits, stationery, cold cream, socks, slippers, woollen caps, jam, etc. to leprosy homes ,schools for special and physically challenged children and orphanages in Ghaziabad.